When we think of tricycles, childhood memories of carefree rides around the neighborhood often come to mind. However, adult tricycles are not just for nostalgia; they offer a range of health benefits that can improve your overall well-being. Whether you are looking to stay active, enjoy the outdoors, or explore your local community, adult tricycles can be a fantastic option for promoting a healthier lifestyle.
    Low-Impact Exercise:
    Adult tricycles provide a low-impact form of exercise that is gentle on the joints and suitable for people of all ages and fitness levels. Unlike traditional bicycles, tricycles offer stability and balance, reducing the risk of falls or accidents. The pedaling motion engages your leg muscles and helps improve cardiovascular health without putting excessive strain on your knees and hips.
    Cardiovascular Health:
    Regular cycling on an adult tricycle can help improve your cardiovascular fitness. It increases your heart rate, strengthens your heart muscle, and enhances blood circulation. This can lead to a reduced risk of heart disease, lower blood pressure, and improved overall cardiovascular health.
    Weight Management:
    Cycling is an excellent way to burn calories and manage your weight. Riding an adult tricycle can be particularly beneficial for individuals who may have limitations or mobility issues, as it allows them to engage in physical activity without the risk of overexertion.  It is a fun and enjoyable way to help shed excess pounds and maintain a healthy weight.
    Mental Well-Being: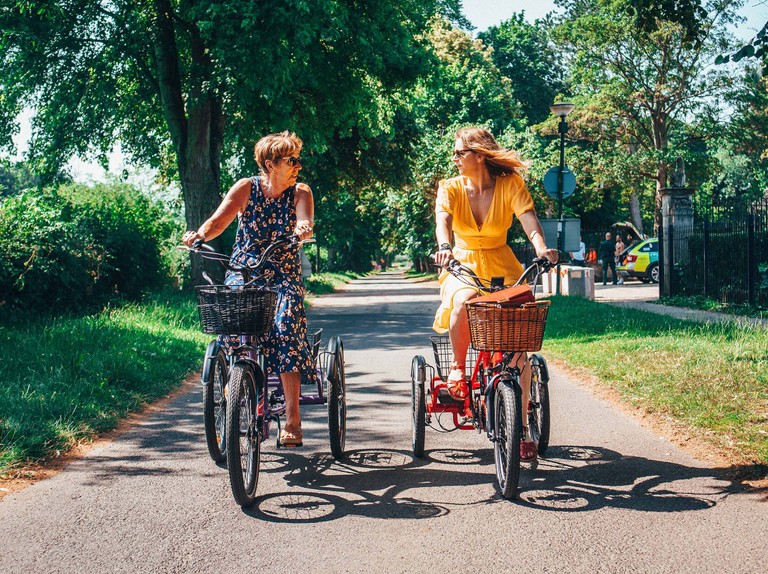 Exercise has a positive impact on mental health, and cycling is no exception. Riding an adult tricycle outdoors can provide a sense of freedom and relaxation. The fresh air and connection with nature can reduce stress and anxiety levels, boost your mood, and enhance overall mental well-being. Additionally, the rhythmic pedaling can be meditative and help clear your mind.
    Social Interaction:
    Tricycle riding can be a social activity, whether you are riding with friends, family, or joining a local cycling club. Socializing while exercising can motivate you to stay active and maintain a consistent fitness routine. Building connections and sharing experiences with others can also contribute to a more fulfilling and balanced life.
    Increased Mobility:
    For individuals with limited mobility or those recovering from injuries, adult tricycles offer a safe and effective means of transportation. They can help maintain or regain mobility adults tricycle and independence, allowing people to run errands, visit friends, or simply enjoy the great outdoors.
    Enhanced Balance and Coordination:
    Riding a tricycle requires coordination and balance, which are essential skills that tend to decline with age. Regular tricycle use can help improve these skills, reducing the risk of falls and injuries in everyday life.
In conclusion, adult tricycles are more than just a mode of transportation; they are a gateway to improved physical and mental health. Whether you are an active senior looking to maintain your mobility, someone seeking a low-impact exercise option, or simply someone who enjoys the freedom of cycling, adult tricycles offer a myriad of health benefits. So, pedal your way to wellness and experience the joy of staying active while enhancing your overall quality of life.